Summer School/Research Seminar
Meeting Overview
The Yhip2019 Summer School/Research Seminar on Historic Polymeric Materials (HIPOMS) and Cultural Heritage Research will combine the "Plastics Heritage: History, Limits and Possibilities" Congress with a two-day seminar course.
It intends to be an open forum for graduate students, post-docs, and other scientists with comparable levels of experience and education to present, exchange new data and inventive ideas and deepen their knowledge of the history of polymeric materials.
The focus of this meeting is to explore novel perspectives relevant to HIPOMS research. Topics of interest include, but are not limited to meaning of HIPOMS in cultural heritage, examples of good practice for the preservation of early and modern HIPOMS, pertinent materials science and cultural research and sources of Hipoms (archaeology, objects, films, design, collections, museums, etc.)
The content of the presentations along with the format of the seminar will encourage free-form discussion and informal gatherings among emerging professionals in the diverse fields that impact historic polymeric materials research and plastics heritage conservation. This format will breed friendships that will hopefully blossom into fruitful collaborations.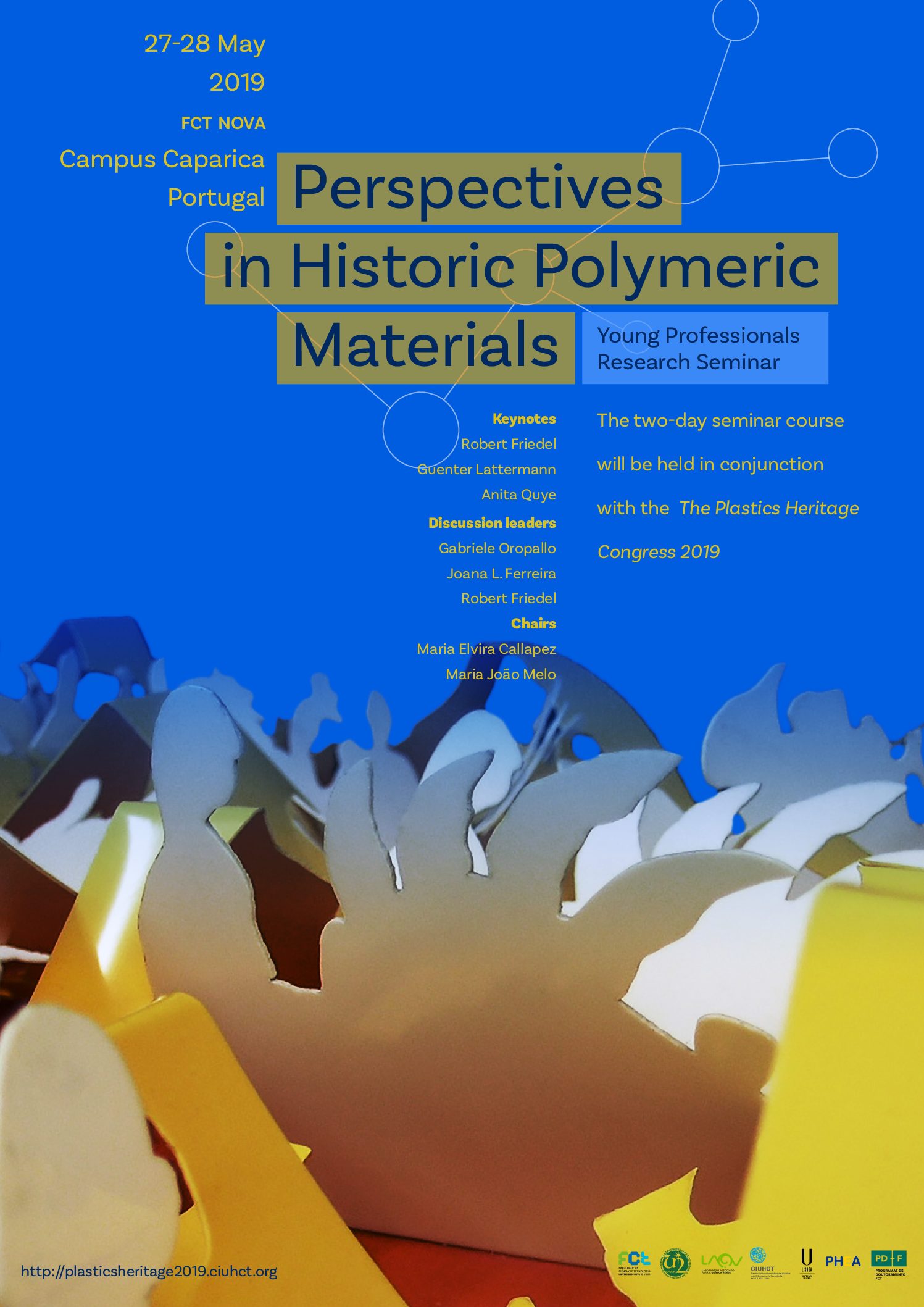 Fees:
Fee of Yhip 2019: 80 Euros (After 30 April: 100€);
Fee of Yhip 2019 & Conference: 125 Euros (After 30 April: 155€)
Upon request, the participants will receive a confirmation that the summer school/research seminar is equivalent to a workload of 2 ECTS.
Programme
Monday, 27 May 2019
3:00 pm – Introductory Comments
3:15 pm – Keynote Lecture
4:15 pm – Oral Session 
O1 Julianne Bell and Cancy Chu, The PolyMuse Project: Challenges and Lessons in Australian Polymer Conservation Research
O2 Artur Neves, The plastics' harbinger in Portugal: unveiling past production for celluloid's preservation
4:45 pm – Poster Session & Snapshots
P1 Anthi Maria Soulioti, Under the radar: The Conservation of a 19th Century Plastic Stethoscope
P2 Élia Roldão, Contributions for the preservation of plastic negatives
P3 Eva Mariasole Angelin, The fate of colours in the 20th-21st centuries: preserving organic colorants in plastic artefacts
P4 Ilaria Saccani, Structures of air: PVC inflatable artifacts by Studio De Pas, D'Urbino, Lomazzi and Franco Mazzucchelli installations
P5 Laura Pagnin, Multispectral Investigations for Characterizing UV-light Degradation of Modern Art Materials
P6 Sara Babo, Conservation studies on poly(methyl methacrylate): understanding the influence of industrial and artistic production processes on the degradation of Portuguese artworks with acrylic sheet
P7 Sofia Nunes, Cellulose acetate in works of art: exploring the causes of its degradation
6:00 pm – Keynote Lecture
7:30 pm – Happy Hour & Dinne
Tuesday, 28 May 2019
10:00 am – Keynote Lecture
11:00 am – Oral Session 
O3 Anne Biber, Colours of a Collection: Surveying museum objects on the colouring of historic plastics
O4 Christina Elsässer and Anna Micheluz, Challenges and opportunities in assessing the effectiveness and harmfulness of storage conditions for three dimensional cellulose nitrate museum objects
O5 Maria Loerzel, "The Transparent Figures" – History, Materials, Production and Active Conservation
11:45 pm – Poster Session & Lunch
2:30 pm – Materialities & Heritage: a round-table discussion
4:00 pm – Concluding remarks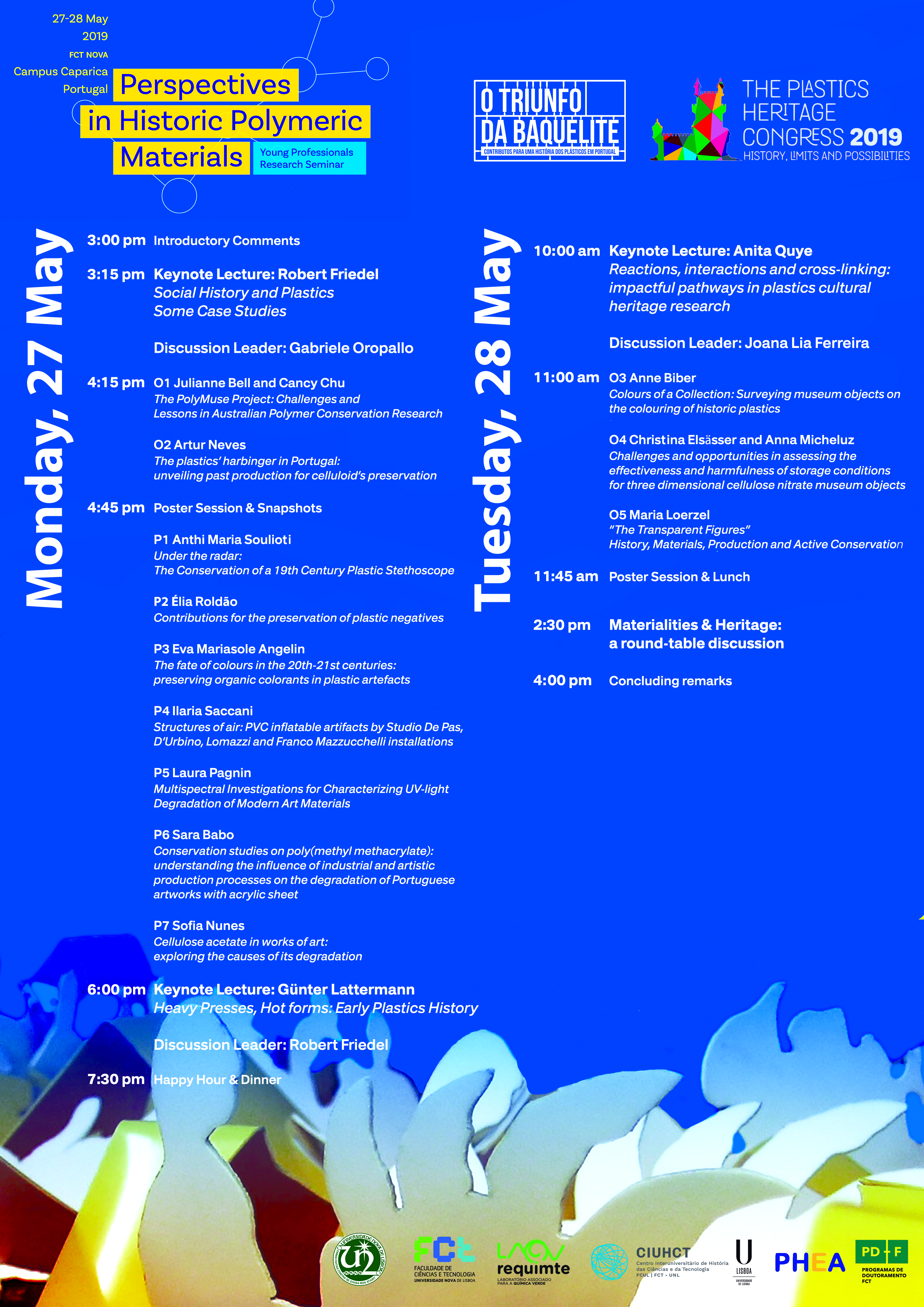 Chairs: Maria João Melo and Maria Elvira Callapez
Organizers: Artur Neves; Eva Mariasole Angelin; Susana Sá;